The brand is a company's main asset, and it is clear that all the actions and management decisions taken should help protect it and boost its value as a result of its ability to generate revenue.
It is important to note that, when we talk about this topic, we go beyond the vision of the financial and economic impacts, since the brand is the representation of the essence of the company, involving aspects such as its reputation, the quality of its products, services, and good customer service, among other factors.
The brand is therefore a managerial asset that goes beyond its marketing potential.
In such context supply chain traceability gains importance, as it denotes transparency and respect towards customers and towards sustainability. Saumon (2019) describes that the growing value of these aspects was introduced by millennial consumers – those born after the 1980s – followed by the other generations – who are those who witnessed the growth in value of intangible assets during the last four decades.
What is gained from traceability and what impact does it have on the brand?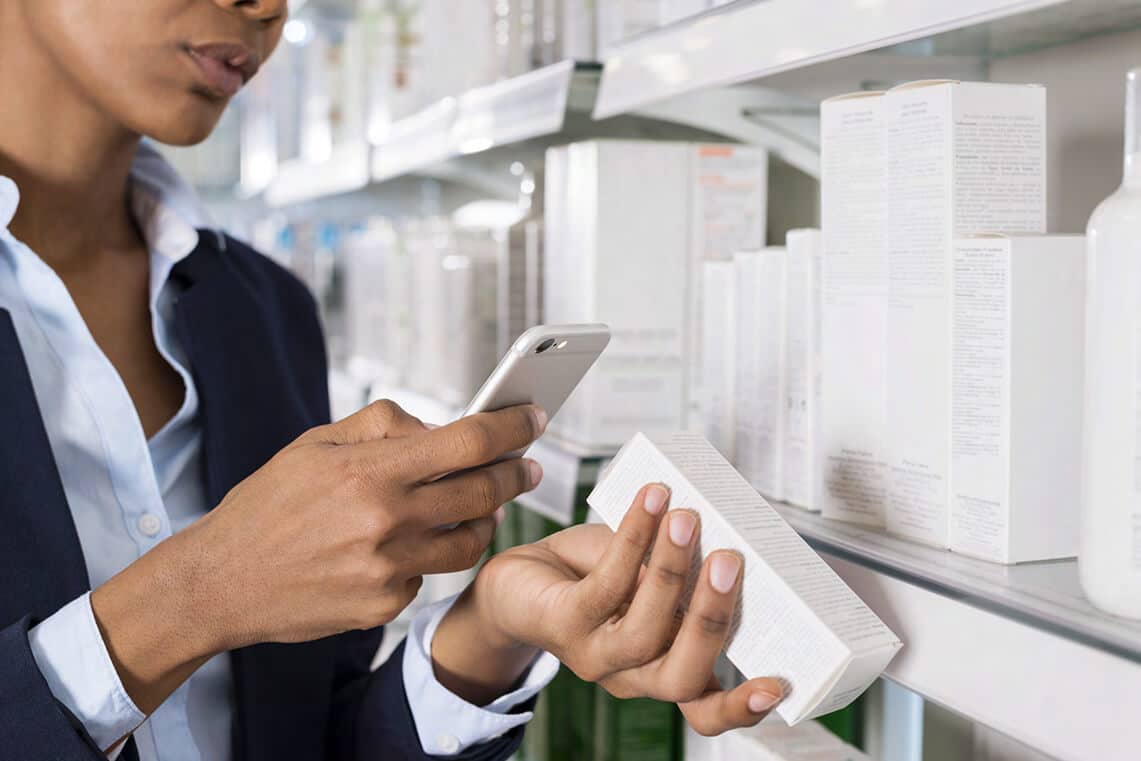 Traceability, as a supply chain management operation, guarantees several benefits, such as the fight against counterfeits and controlling costs and processes.
In the pharmaceutical industry, for example, its essential character is proven to combat fraud and counterfeit drugs, as demonstrated in a research conducted by Silva Jr., Silveira, and Malaquias (2019). The authors analyzed a situation in which Anvisa (National Health Surveillance Agency – the agency responsible for overseeing the activities of the pharmaceutical sector in Brazil and very present in the press last year) established measures in favor of traceability, as a way to inhibit the dangers that fake medicines can bring to consumers.
Other important research, conducted by Epelbaum and Martinez (2014), recognized the benefits to the brand obtained by traceability, such as improving its reputation and quality. In turn, other researchers go beyond the benefits already recognized and add:
Increased efficiency in the supply chain;
Error prevention;
Public health protection (avoiding fraud and counterfeits);
Medico-legal investigations (identify actors and locations in the timeline);
Clinical research and epidemiological surveillance (data source to leverage the use of clinical data);
Flow and process management;
Invoicing (related to controls);
Fraud prevention measures.
It is important to note that, although the research presented above focuses on the pharmaceutical industry, all the benefits listed can be applied to any organization that needs to manage its supply chain.
Therefore, there is a considerable improvement in the quality of the work performed. In essence, all the potential benefits listed are realized in brand value protection. And considering these benefits, we can see the following gains:
1. Increased supply chain efficiency
A situation that refers to quality management. Management and control are always measures that benefit the value of a brand, since they make it possible to ensure excellence in delivery times and in the quality of the products or services offered;
2. Error prevention
It may be impossible to reduce errors and losses to zero, but it is possible to mitigate them when prevention is at the heart of the strategy. Guaranteeing higher quality guarantees a better reputation, and reputation itself may be the most significant factor influencing the economic value of a brand.
3. Protecting public health
This is believed to be a specific contribution to the pharmaceutical industry, according to some surveys.
However, for other sectors, it is possible to consider aspects related to sustainability and socio-environmental care, since, currently, showing care for the environment and for people in any business conveys responsibility and respect for society.
4. Investigations and Research
To understand and then manage it is necessary to be able to measure. At the same time, these demands require the development of new technologies.
5. Process Management
Tracking the supply chain is, in itself, an important action in logistics management. It makes it possible to understand storage, transportation and delivery deadlines; as well as to manage stock volumes and production management; it also helps reduce and manage potential losses and costs. Logistics management, even though it may be invisible to many end consumers, is an important structural factor in a company's image, as it underpins the entire relationship between the supplying company and the respect and commitment to its consumers.
6. Revenue
Strong brands also express themselves by demonstrating a possibility to increase earnings for their shareholders. The management and tracking of the supply chain is not limited to making production and distribution processes more efficient. By adding a perception of quality, it impacts the question of the perception of value that customers would be willing to pay, leading to the possibility of premium pricing practices, for example.
Even if it is not perceived directly by the consumers, taking good care of the logistics and the supply chain leads to great benefits. It is worth remembering that, considering the non-visible part of the process, that which is not perceived directly, traceability allows for improvements both in organization and in information sharing with clients, suppliers, and with the respective inspection and regulation bodies.
In essence, traceability is a decisive step in logistics and supply chain management because it allows not only to control, but also to measure and understand the processes involved, from production to the delivery of the product to the customer. But how does this affect the value of a brand?
Traceability is an investment that is aligned with issues that are increasingly of interest to a society that is committed and thirsty for accurate information. Within the supply chain, it is possible to notice and manage a series of aspects that are understood as indirect financial information (Schramade, 2016), or, as it is usually cited, as non-financial information, this greatly impacts on the perceived quality and commitment that new clients seek to identify.
On its own, the brand is an asset that impacts the entire production and management chain within an organization. Therefore, implementing initiatives that produce indirect financial impacts, results in a growing association of transparency and quality and sustainable concern, which, certainly, are factors that add even more value to the brand of any company committed to successfully managing its supply chain.
References
EPELBAUM, F. M. B.; MARTINEZ, M. G. "The technological evolution of food traceability systems and their impact on firm sustainable performance: A RBV approach", in: International Jornal Production Economics, v. 150, p. 215-224, 2014.
LOVIS, C. "Traceability in Healthcare: Crossing Boundaries", in: IMIA Yearbook of Medical Informatics, p. 105-113, 2008.
SCHRAMADE, W. "Integrating ESG into valuation models and investment decisions: the value-driver adjustment approach", in: Journal Of Sustainable Finance & Investment, [s.l.], v. 6, n. 2, p.95-111, 2016. Informa UK Limited. http://dx.doi.org/10.1080/20430795.2016.1176425.
SILVA JUNIOR, Orivaldo Antônio da; SILVEIRA, Raquel Oliveira Fernandes da; MALAQUIAS, Césio. "FALSIFICAÇÃO DE MEDICAMENTOS NO BRASIL: a importância da rastreabilidade no controle", in: Anais dos Cursos de Pós-Graduação, Anápolis, v. 1, n. 1, p. 221-233, jun. 2021. Disponível em: http://anais.unievangelica.edu.br/index.php/latosensu/article/view/4522/2758. Acesso em: 30 mar. 2021.
SILVA, Ronaldo Brito da. Identificando e priorizando os fatores críticos de sucesso na rastreabilidade da cadeia de suprimentos de medicamentos. São Bernardo do Campo, 2018. Dissertação.