Let us solve ALL of your 
Traceability and Compliance needs
2023 DSCSA Compliance
Serialization Requirements
Supply Chain Improvements
Product Security & Visibility
Trading Partner Integration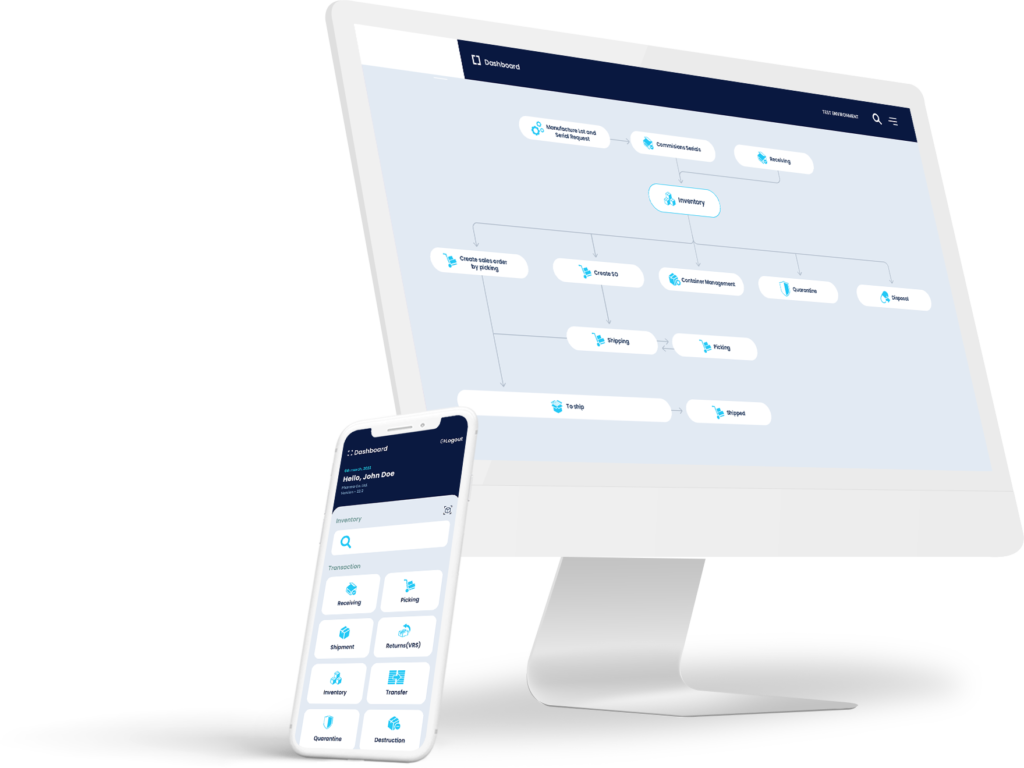 Improve efficiency within supply chains, logistics and operations
Strengthen every link in your value chain

Trusted by 600+ Companies


Traceability Portal
Cloud based traceability system – TrackRX tracks the movement of a product or drug throughout the supply chain. It allows you to verify and document its history from manufacturing, packaging, handling, distribution and prescription through to delivery all the way to your consumers.
Compliant with global regulations. A true ally for you and your business partners.
A valuable solution to monitor and improve quality control, limit returns, and make recall procedures more efficient.
API-First can be easily integrated with WMS, ERP and other systems.
Work with our experts to explore all the technical differences that are unique to the market. Improve efficiency with an intuitive, customizable and easy to adapt interface.

Mobile scanning, collection and smart data capture solution
Powerful Multiscanner: designed for accuracy and speed in barcode (Data Matrix, QR code, etc.) scanning. This technology delivers mobility for your operations using a smartphone or tablet, uniquely integrated with Augmented Reality (AR) and Artificial Intelligence (AI).
Mobile software that reduces normal costs with dedicated scanners.
Scans codes at a distance of 8 feet and codes in low light.
Inventory management, data collection, shipping and receiving.
High efficiency, resulting in more productivity and profits.
As an option, it can be used with TrackRX or competing systems for product traceability compliance, your ally in data collection and reporting.

Achieve independence in operational management
The erpRX offers solutions for all areas of your company, and the TrackRX and RapidRX systems are integrated with the product and drug traceability module.
Modular and flexible, it scales as your company grows.
Eliminates costs with multiple systems and integrations.
Assertive communication between modules, avoids duplicate information.
Product traceability (anti-counterfeiting) and mobile scanning.
More than 9 thousand companies trust it.
Transform and automate your operations to quickly prepare or comply with 
product traceability laws
.
Get ahead of the deadlines
Pharmacies and Hospital dispensers, Wholesale Distributors, Manufacturers, Repackagers, and 3PLs all need to have an electronic, interoperable Traceability System by the final phase of Drug Supply Chain Security Act (DSCSA) implementation in 2023.
Our comprehensive Traceability Portal will get you ready for the DSCSA deadline.
DSCSA Made Easy: We Simplify Your DSCSA Challenges. Get in Touch and Watch our Demo.
Set a proven example of quality and safety
Join our clients
"Top notch customer service. Easiest Track & Trace system we have ever used."
AVELLA SPECIALTY PHARMACY
"We have been a customer of TrackTraceRx since the ePedigree days."
ASP CARES
"After connecting to TrackTraceRx we were easily able to integrate with all of our trading partners."
AMERICAN PHARMACEUTICAL INGREDIENTS