New technologies and plenty of operational innovation! Industry 4.0 is dictating a new era for supply chains. Digitalized, the new model of organization and operation is based on four pillars: traceability, predictability, agility, and sustainability.
These four words are common elements within the new work dynamics of supply chain managers, who are reinventing their ecosystems in search of new objectives and a major competitive advantage.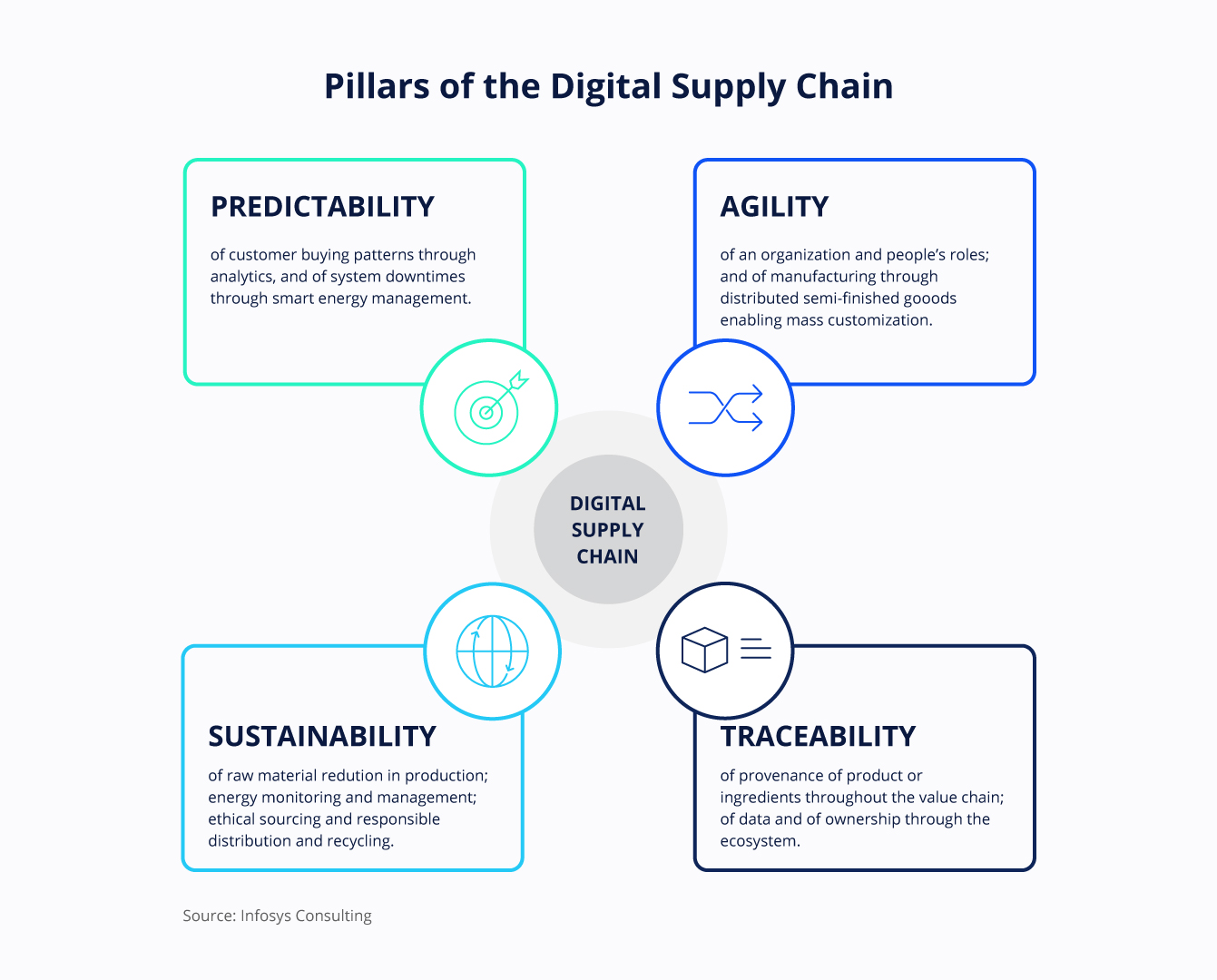 Nowadays, visibility is a key word for Industry 4.0. Data transparency builds value for the company and involves other benefits, such as helping to meet sustainability targets – an increasingly important issue.
As experts in the traceability market, we can confidently state:
Organizations focused on building a digital approach to supply chains will be responsible for dictating the future of the market.
In this text we will explore some of the factors that can drive your competitiveness and address some technologies that need to form part of your business plan!
With an eye on the future: Industry 4.0 is no longer a new phenomenon
Technology was already part of the supply chain, and within manufacturing, Technology was already part of the supply chain, and within manufacturing, for example; "smart factory" is already a reality.
Now, the accelerating pace of digital transformation means that technology is also a part of our lives as consumers.
From production to distribution and also within consumption: digital systems interact with each other and with reality at the same time. This dynamic characterizes in parts the so-called Internet of Things (IoT).
By speeding up production and distribution processes as well as consumption, the IoT already offers benefits for industries and companies that have gone digital.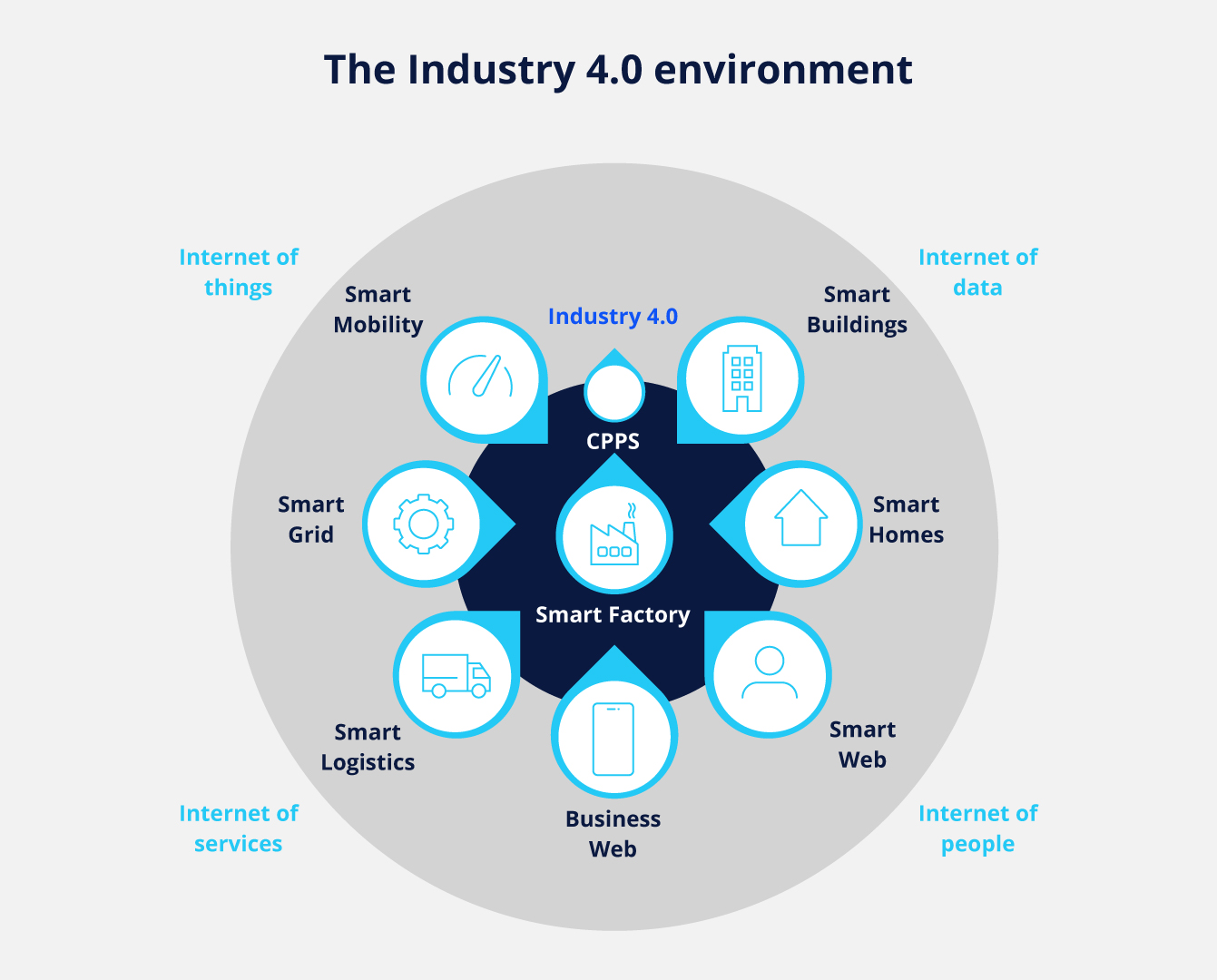 Industry 4.0: sustainability as an imperative for success
The "customer focus" within different industries has taken new directions.
In a landscape of constant shifts in both consumption patterns and environmental conditions, the banner of ethical consumption is no longer understood as an additional cost, or luxury, and has become part of the investment logic for growth.
Leading decision-makers already know that the ability to respond to changing consumer demands is a necessity. And that will not change.
Technology has enabled products and services to be customized on another level. And ethical consumption has become part of the new sustainable dynamics of the market.
Ethical consumption went from the status of "additional cost" to " business investment" within a very short period of time.
And sustainability practiced at various stages in the supply chain – not just in consumption – has added economic value for companies that see it as part of their culture.
In 2018, a report by the World Economic Forum already stated that companies with ethical policies focused on sustainability could:
Increase their revenue by up to 20%;
Decrease supply chain costs by up to 16%;
Strengthen brand value by up to 30%;
And reduce their carbon footprint by 22%.
With more advanced technology and new perspectives on process optimization, these results could reach even higher proportions.
Traceability, a critical factor for conscious consumption
Within the logic of ethical consumption and sustainability, consumers demand more transparency regarding the products they consume.
To achieve this, companies need to identify their suppliers – not only the first-tier ones – and address elements related to environmental standards, product safety, respect for local communities and workers, among many other aspects.
For industries and companies, having a digitalized and integrated supply chain guarantees a major competitive advantage. It is the possibility to visualize and access all information in real time.
And to get ahead.
Regulatory compliance: how legislation has driven global change in Industry 4.0
Keeping pace with change, governments around the world are responding with even stricter regulations.
How are decision makers benefiting from legislation?
For companies, stricter legislation can be converted into greater protection against events that negatively impact the brand.
The new rules and the quest for transparency are directly influencing sourcing and supply chain strategies.
In short, legislation has played an important role in showing the best logistics practices to the responsible parties.
By keeping in line with the regulations, incidents are prevented.
Systems integration: an essential part of Industry 4.0
Based on operational and real-time data processing, Industry 4.0 is contributing to more agile decision making through sytem integration.
In practice, integrating with your business partners at different levels of the supply chain is not easy. But the math is simple:
System integration enables decision-making based on reliable and accurate information that is shared throughout the supply chain!
The industrial sector, which has grown increasingly smart, generates a huge amount of information that can only be used strategically through efficient integration.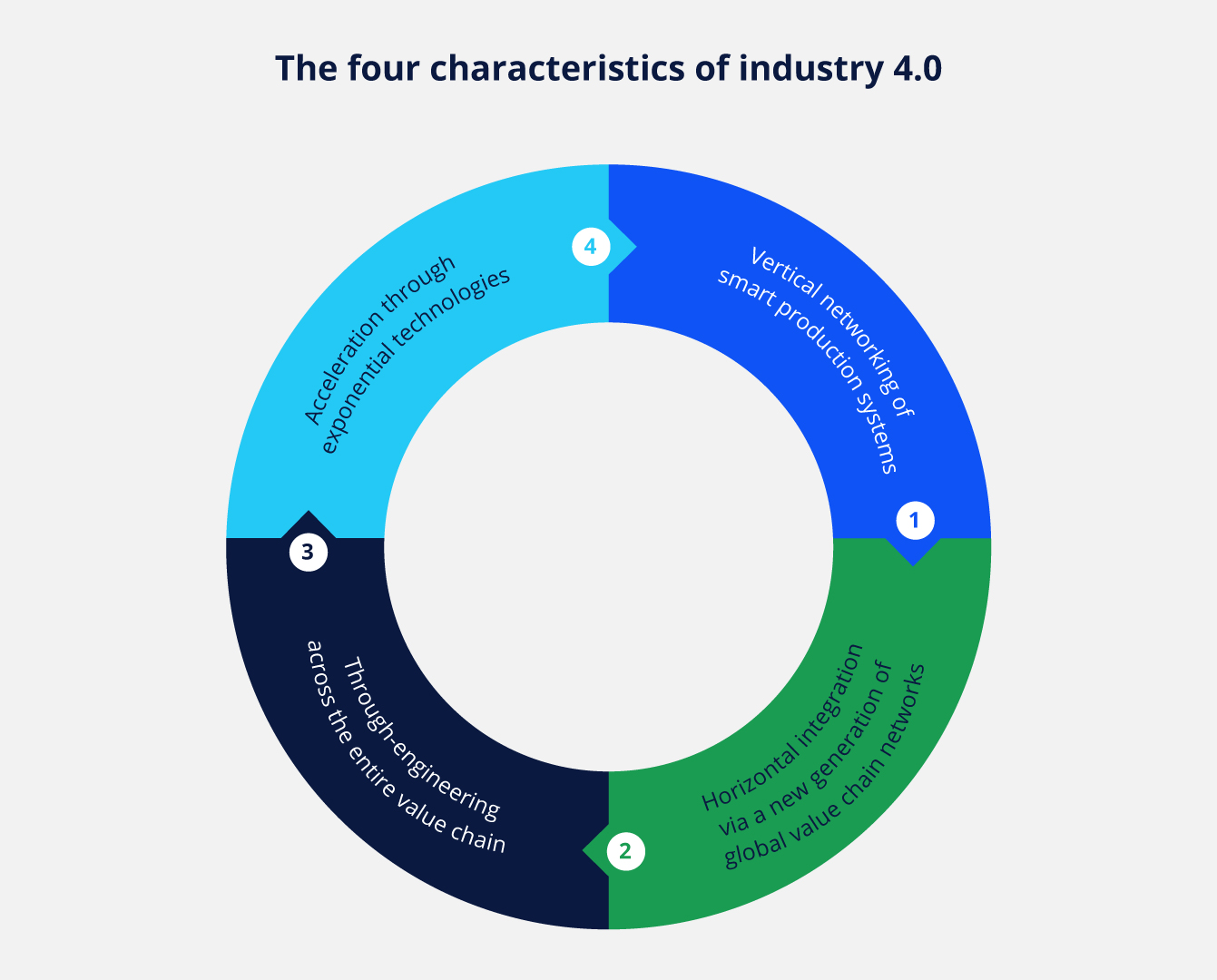 Integration can happen in two ways:
Horizontal integration:

connection between the factory and the external value chain, involving cross-supply chain communication through an integrated workflow.

Vertical integration:

allows the business levels to be connected through a hierarchy, with data exchange.
The path to complete integration is not easy, but the expected results include visibility into new operational data in real time, which turns into good quality indicators and opportunities for improvement.
Less rework, fewer errors, and less waste by digitizing processes, gaining new insights, facilitating traceability and asset control.
Traceability beyond the product: a basis for Industry 4.0
With advanced technology and innovation, traceability in the supply chain within Industry 4.0 optimizes productivity, quality and brand reputation.
Traceability 4.0 is commonly linked to manufacturing, but the entire supply chain benefits from it.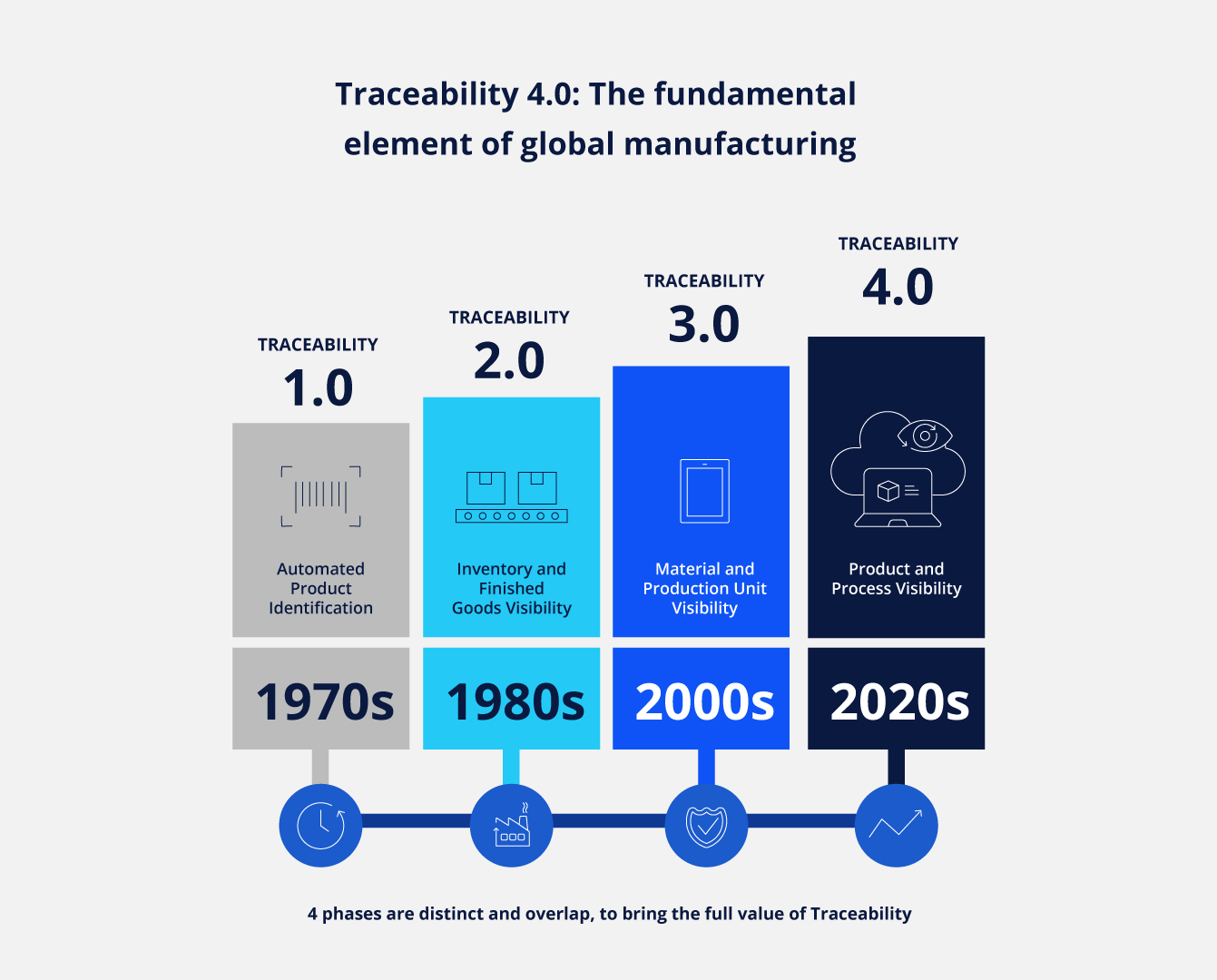 Integrating people, processes, and technology is the next step
Understanding new technologies comprehensively is paramount.
Process automation, Artificial Intelligence (AI), Augmented Reality (AR), and Blockchain are all innovative tools that you should know and keep up with.
With new resources in circulation, we have the tools we need to boost visibility into quality and respond to issues in real time with opportunities for improvement.
Keeping up with the ever-evolving technological landscape by applying the right combination of people, processes, and data enables any supply chain company to respond to new supply challenges, generating financial returns and a solid competitive advantage.
Consider collaboration with a partner to help you prepare wisely! Our expert traceability team knows the right technologies that will boost your competitiveness while you deal with regulatory challenges.
We are just a few clicks away! Leave us a message and get your questions answered.
Oh, and don't forget to keep studying. The market is constantly evolving and supply chain managers are the first to keep up with it! Join our discussions on the blog.